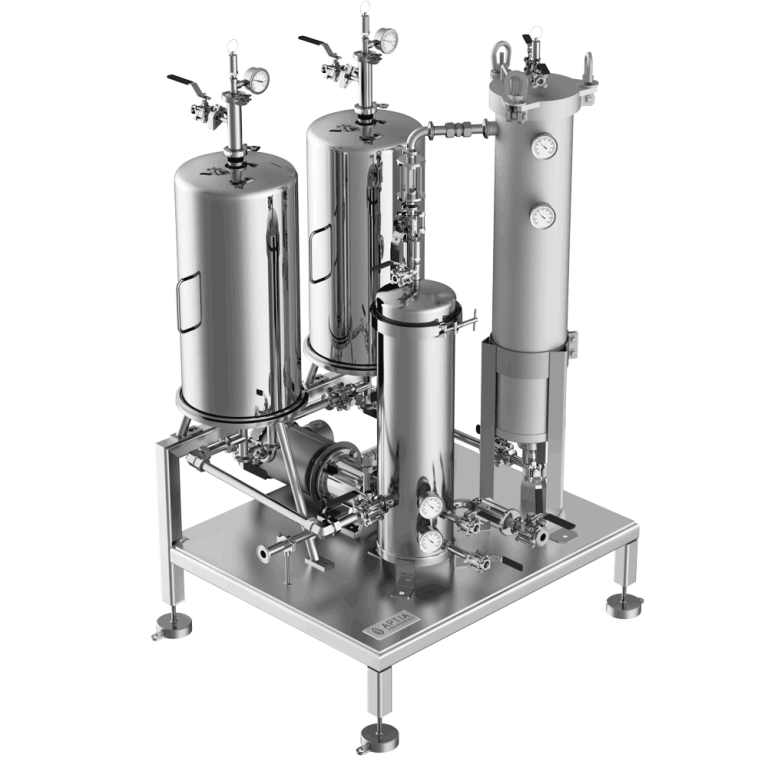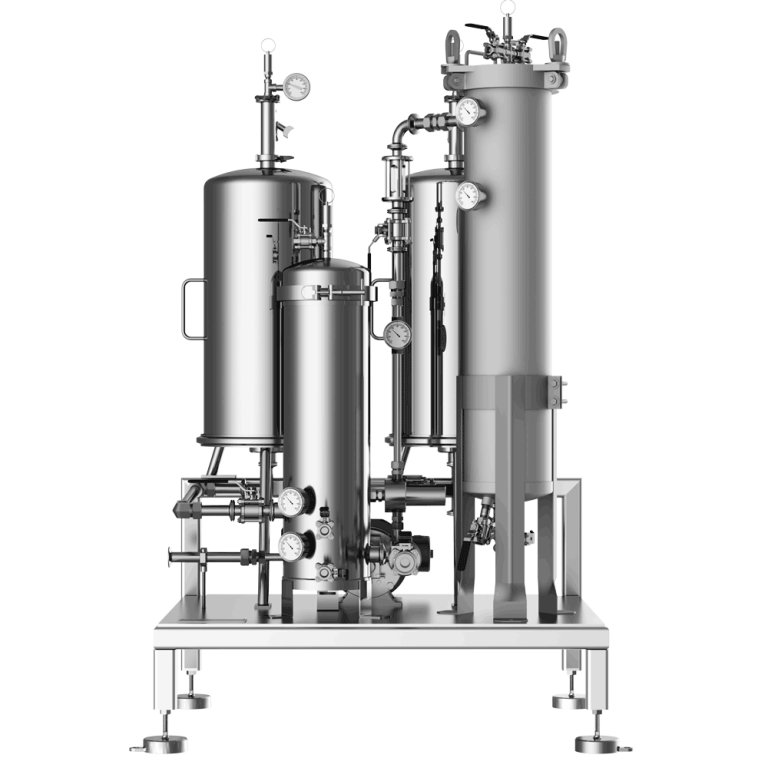 Four-Stage Extract Filtration Skid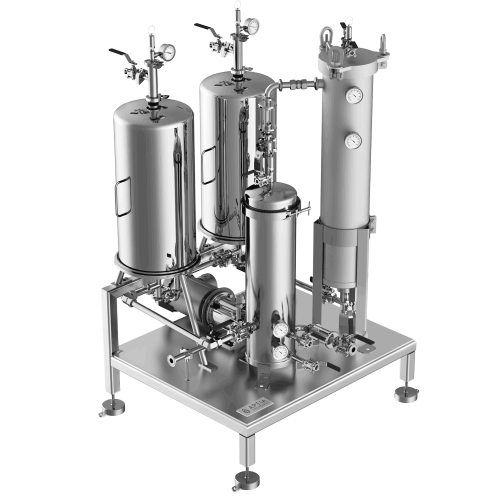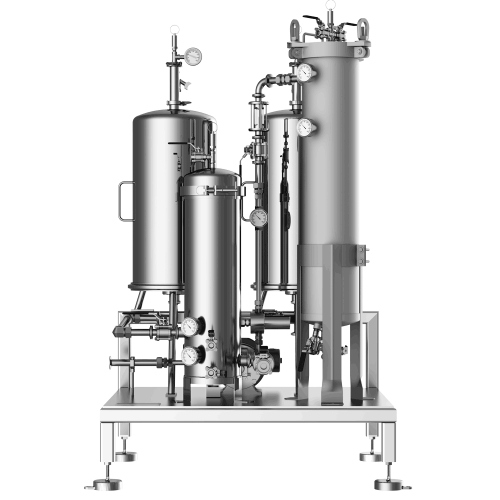 A complete filtration solution for extract & solvent mixtures in a compact, effective, and easy-to-install package.
The Aptia FS4 provides a superior extract filtration solution for purifying and increasing the quality of botanical extracts in a streamlined and compact footprint.
Field-rigging a filtration line can be messy and expensive because it requires a large number of isolation valves, pressure relief valves, pressure gauges, and plumbing to properly set up multiple different filtration housings. This can result in wasted floor space, high labor costs, and incomplete solutions.
Aptia's FS4 Four-Stage Filtration Skid remedies this issue by providing a complete extract filtration solution in a compact, ready-to-use, and thoughtfully designed package.
The FS4 is equipped with four optimized stages of filtration. The first stage removes course particulates and plant matter, which extends the life of the more expensive adsorbent filter stages. The second and third stages are lenticular adsorbent filters, which help improve the extract quality. The last stage is a polishing filter that removes particulates as fine as 1 micron, yielding a high-purity final product.
The filtration rate is controlled via a positive displacement electric pump that is unique to the Aptia FS4 skid. It provides 5-22 LPM of consistent, quiet, and controllable flow for consistent high-quality results.
Skid mounted, easy-to-install, and ready-to-use extract filtration solution
Integrated positive displacement pump with a C1D1GRPD explosion proof motor
Electric pump delivers consistent, quiet, controllable, and pulsation free flow for filtration
Filtration flowrate easily adjustable via wall mounted control panel
Four stage filtration for particulate removal and adsorption with two different media
Cartridge and lenticular filters are equipped with double O-ring closures for tight seals
Each filter housing fully equipped with pressure gauges and isolation, drain, vent, and pressure relief valves
Top quality valves, gauges, housings, and filter consumables for reliable performance
Durable stainless steel triclamp and compression plumbing
Available with Viton or EPDM gasket kits for multi-solvent compatibility
4 Stages of Extract Filtration
#2 Size Bag Filter Housing
>> Removes Large Particulates
---
#2 size bag filter housing for removal of particulates > 10 micron size
High quality housing with long lasting swingbolt closure
150 PSIG rating
Bag filters are economical and easy to replace
First stage filtration extends the life of other filtration stages
Lenticular Filter Housing
>> Captures Chlorophyll, Sugar and Other Undesirable Materials
---
Designed to accommodate two stacked lenticular elements
Intended for Diatomaceous Earth (DE) or Silica impregnated elements
DE or Silica elements are economical and help extend the life of downstream filter elements
Lenticular Filter Housing
>> Captures Pigments, Off Flavors and Undesirable Odors
---
Designed to accommodate two stacked lenticular elements
Intended for Activated Carbon impregnated elements
Impregnated elements are much easier and cleaner to handle than powdered adsorbents
Cartridge Filter Housing
>> Polishing Filter Removes Particulates Larger than 1 Micron
---
QTY3 20" tall cartridge elements
Can accommodate DOE or 222 style cartridges
Tight seal ensures bypass free filtration
High efficiency, 1 micron filter cartridges ensure high extract purity
High capacity design allows for rapid filtration
System Min/Max Temperature
Compatible Solvents – Viton*
Compatible Solvents – EPDM*
Ethanol, Methanol, Isopropanol, Acetone
*Application specifics must be reviewed and approved by Aptia at time of purchase to ensure system compliance and safety with intended use
Request Additional Information